NowPlayer
NowPlayer
Version: 1.0.2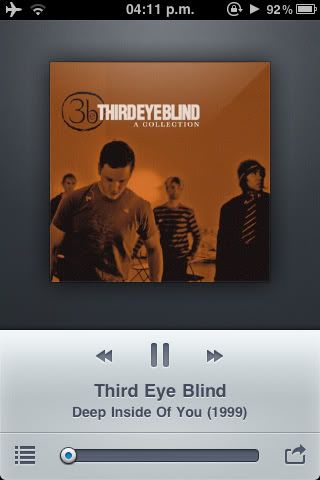 Description:
HALF PRICE SALE NOW ON!
We are giving away 1 $50, 1 $25 and 2 $15 iTunes giftcards and 5 apple tshirts. International people will receive the giftcards in their own currency or something of equal value.
To be eligible to win you have to tweet from the full version of NowPlayer and add the tag #NPContest at the end. We will also give away tshirts to 5 followers of @NowPlayerApp.
Closing date for entries is 1st July 2011 and you can enter as many times as you want
Share your favorite music with your favorite social networking sites – well Facebook, Twitter, and email (more to come).
Control your music with the swipe of a finger or the onscreen controls. Change your music without looking at the screen, perfect for when you're out on a run or off to pick up the kids/pizza.
Customizable UI that includes:
- 2 UI themes
- 7 Album Artwork themes
- 8 Backgrounds (including choosing your own)
- 4 types of notification systems
Totally customizable gesture system:
- Two Finger Tap to play/pause, but can be changed to a double tap if you desire
- Three Finger Tap to auto-send a tweet
- Swipe left/right to change tracks
- Swipe up/down to change the volume
- Double tap with two fingers to change shuffle mode
Share even more than just your songs:
- Add links to iTunes or YouTube
- Customizable hashtags
NowPlayer also has a built in Music Library and support for last.fm/scrobbling
Retina ready, so still looks good on whatever device you have.
Visit http://www.misecia.me for instructions on how to add your own backgrounds to NowPlayer
Please rate and review NowPlayer. Your support will allow us continue to add cool new features.
Follow us on twitter @NowPlayerApp or @misecia
Much better Music Library, AirPlay, Landscape mode, more themes and Dark UI. Plus support for myspace, Rdio, Spotify and in-app settings coming soon
Sursa
2011-06-14 06:13:12

Comenteaza
Ultimele 25 posturi adăugate
| | |
| --- | --- |
| 07:04:35 | LINIA VIEȚII —» Leo Butnaru |
| 14:49:58 | DINTR-O POSIBILĂ ANTOLOGIE, 2014 —» Leo Butnaru |
| 10:11:03 | SOLIDARITATE —» Leo Butnaru |
| 07:07:40 | Milostenia nu-i mai mult sau mai puţin merituoasă, după însemnătatea darurilor —» Portalul Tineretului Ortodox din Moldova |
| 20:08:31 | Polițistă la volan, la fel ca bărbații cu epoleți, sfidătoare —» Curaj.TV | Media alternativă |
| 19:47:06 | Am pierdut mii de dolari pe false "investiții"! —» Curaj.TV | Media alternativă |
| 10:00:08 | Anxietatea – de la cauze și consecințe, la soluții —» Moldova Creștină |
| 08:50:04 | DIN ISTORIA (ȘI GEOGRAFIA) LITERATURII ROMÂNE ÎN IMAGINI © —» Leo Butnaru |
| 05:42:32 | «Новости Приднестровья» продолжают тырить —» Бессарабские хроники |
| 00:05:00 | Black Friday: All of Our Deals in One Spot —» Misterioz |
| 18:44:12 | Cehia. Moldovenii de peste hotare sunt "diasporă" —» Curaj.TV | Media alternativă |
| 17:24:22 | Zice că l-au păcălit cu locul de muncă în Germania —» Curaj.TV | Media alternativă |
| 14:27:05 | Programul ,,Opera jubiliară a anului 2022" —» Biblioteca Publică or.Rîşcani |
| 13:26:41 | Infografic ,,Septembrie - nici o zi fără lectură" —» Biblioteca Publică or.Rîşcani |
| 12:30:29 | REVISTA "NEUMA" ÎNTREABĂ —» Leo Butnaru |
| 10:10:31 | A fi bun nu costă mult, dar aduce dobânzi mari! —» Moldova Creștină |
| 18:55:30 | Valurile mortale din asfalt au supraviețuit două anotimpuri —» Curaj.TV | Media alternativă |
| 18:48:59 | Tramvaiul răzbunător de pe ruta 11 —» Curaj.TV | Media alternativă |
| 16:02:58 | Omofonele – unde punem cratima?  —» Moldova Creștină |
| 16:00:13 | Ar trebui să ne doară… | Poezie de Mașa Rotaru —» Moldova Creștină |
| 13:00:16 | Interviu cu Vasile Gherasimciuc, Director al Sărbătorii Speranței în Moldova (14-16 Iulie 2023) —» Moldova Creștină |
| 10:30:02 | POET AL AVANGARDISMULUI UCRAINEAN - VICTIMA BOLȘEVISMULUI —» Leo Butnaru |
| 10:00:14 | Nu ne mai pasă | Opinie Mașa Rotaru —» Moldova Creștină |
| 07:58:56 | Pandemia mai este, chiar dacă n-o vedem —» blog cultural |
| 21:58:36 | O activitate de interes maxim… —» Centrul Comunitar Instruire, Acces Informaţie Călăraşi |