Blog despre moda, frumusete, sanatate si mod de viata


Lifestyle

Comenteaza
Despre Street Style
Am decis astăzi să scriu despre street style deoarece acest mărunţiş, de fapt, a devenit un adevărat fenomen de ceva timp. Aşadar, pe parsursul săptămînilor modei, atenţia maximă a reprezentanţilor mass-media nu mai este focusată atît pe design-eri şi colecţiile lor, cît pe street style. Aceste 5 minute cît le faci din maşină/taxi pînă în încăperea prezentării de modă, devenite în timp ore, s-au transformat în adevărate evenimente mondene cu doldora fotografi, la care mai toti participanţii au ca obiectiv să se evidenţieze din mulţime. Păcat doar că acest obiectiv devine atît de obsesiv, încît oaspeţii prezentării deseori nu mai gîndesc limpede şi realizează fail peste fail în materie de modă. Iar în timp ce urmăresc să iasă în evidenţă, ei nu reuşesc decît să arate de-a dreptu' ridicol prin combinatii neinspirate, accesorii de prost-gust şi elemente mega-extravagante sau chiar ciudate de tot.De ce să nu optezi în schimb pentru o ţinută elegantă sau cel puţin clasică, şi nu una absurdă? O alegere fără şanse de eşec.De exemplu, nu pot şi nu cred c-o voi înţelege vreodată pe această "regină" a street style-ului la show-urile de modă, Anna Dello Russo, care, înţeleg "doesn't want to be cool, wants to be fashion", dar asta nu înseamnă că la vîrsta care o are (49) poate să-şi permită să poarte orice. Deci, reuşeste, exagerînd să şocheze de fiecare dată, dar nu intotdeauna plăcut. Cred că are o nevoie acută de sugestii referitoare la măsură, stil şi gust estetic, care sunt un must pentru a fi luate în consideraţie de către un Editor-at-large al Vogue Japan totuşi. Apropo o găsiţi aici. Atenţie! Nu se recomandă persoanelor slabe de inimă sau uşor influenţabile în aspect fashion.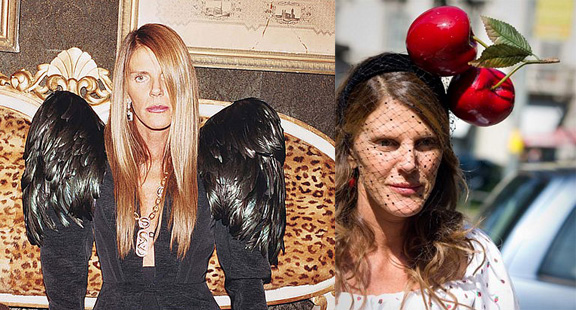 Am selectat mai jos nişte imagini din mai toate săptămînile modei recente cu outfit-uri reuşite şi nu prea. Deja decideţi Voi.Aşa DA!
Nici nu ştiu unde merge asta...Cred c-o plasez între.
Aşa NU!
O recunoaşte-ţi, nu?
What the hell!?
Photo Sources: Vogue & Harper's Bazaar